Defensive Line
Defensive Line: Nick Bosa, Javon Kinlaw, DJ Jones, Arik Armstead, Dee Ford, Ronald Blair, Solomon Thomas, Kentavius Street, Julian Taylor, Kerry Hyder, Kevin Givens, Willie Henry Jr.
Defensive line is not just the strongest position group on the defending NFC Champion's roster; it may be the most talented unit of any position on any team in the NFL. That's despite losing star defensive tackle DeForest Buckner.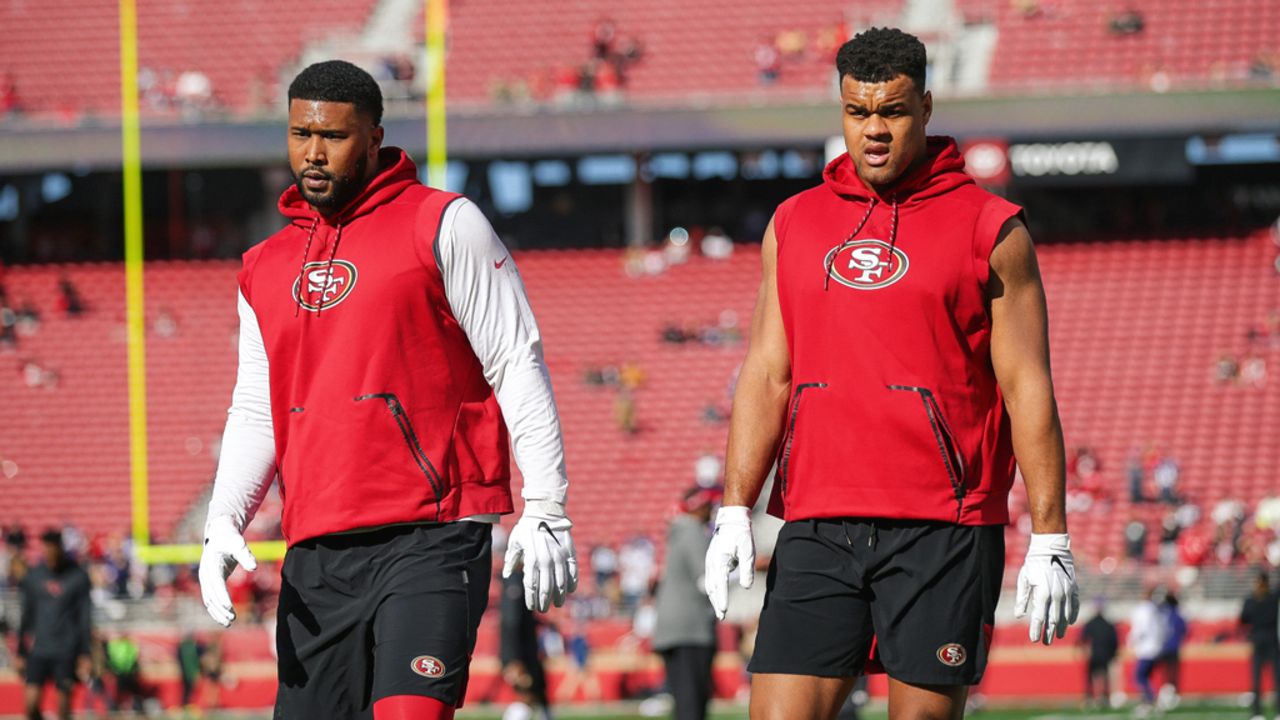 Amid the cornucopia of talent, the conversation starts with Nick Bosa. Bosa was one of the 49ers best players the second he walked in the door and he only got better as the season progressed. Per Pro Football Focus, Bosa was the second best edge defender in all of football, dominant against the run and pass. He's a foundational player for the 49ers, and at just 22 years old, seems poised to be a perennial all-pro.
Joining Bosa on the starting defensive line will be, in my view, Javon Kinlaw and DJ Jones inside, and Armstead as the other defensive end. When the 49ers go to their pass rush package, the front will likely be Bosa and Ford on the outside, and Kinlaw and Armstead on the inside. Both combinations pose frightening challenges for any offensive line.
Kinlaw is not going to be as technically refined as Buckner right away, but his physical traits are rare. If there's one thing the 49ers defense lacked last year, it was bulk inside. Kinlaw brings elite size. His height, weight, hand size and arm length are all in the top 20 percent of players at his position evaluated at the combine. His height and weight are listed differently on various sites across the web, but average it out at about 6'5" and 315 pounds with impossibly long arms. And you won't find a bad pound on him.
This is not just a case of nice numbers on paper, though. Watch his tape and see him routinely dent the line of scrimmage. If you're watching the whole defensive line, Kinlaw is the one who routinely has his guy two yards into the backfield almost immediately after the snap.
Brian Baldinger, who knows his stuff as a former NFL offensive lineman and longtime analyst, called Kinlaw the most dominant defensive player in the past draft, over the likes of Chase Young and Derrick Brown. He's also said there isn't a player currently in the NFL that can handle Kinlaw one-on-one.

Even if Kinlaw is a little raw, his physical presence is going to be a problem for defenses right away, particularly when flanked by so much talent. Armstead finally broke out last season, barely trailing Bosa per Pro Football Focus, ranking as the 5th best edge defender in the league. There were games last year when he was the best defensive player on the field. Even if Armstead doesn't repeat the 10 sacks he notched a year ago, I believe he'll continue his ascent as a player.
If you watched the 49ers closely last year, you know the pass rush wasn't the same without Dee Ford. His 6.5 sacks in 11 games don't jump off the stat sheet, but he was extremely effective in limited snaps. He seemed to be the straw that stirred the drink for the pass rush. Health is a concern with Ford but he has put together 10-and 13-sack campaigns in the recent past. The 49ers will limit Ford's snaps as a proactive measure, and that happens naturally to some extent because he doesn't play in base packages.
What Ford is to the pass rush, Jones is to the 49ers run defense. Unfortunately, we saw that emphatically proven with both players missing time last year. A healthy Jones paired with the massive and powerful Kinlaw should make for quite the run stuffing tandem. With Bosa and Armstead both nicely-sized defensive ends that are excellent at setting an edge and tackling in the run game, this could be the best run stuffing line in football.
Unfortunately for opponents, passing downs won't be any easier. Ford, Bosa, Kinlaw and Armstead are all talents worthy of a double team. The combination of size, speed, power and versatility this front brings to the table should be truly awesome to watch.
Behind the big five (Ford, Bosa, Armstead, Kinlaw, Jones) there is some solid depth. Ronald Blair is a starting caliber defensive end and graded out, in limited snaps, as a top 25 edge defender in all of football, per Pro Football Focus. He managed three sacks in 9 games before going down for the season with a torn ACL. His return to form is vital to the 49ers success. He can take snaps from Bosa, Armstead and Ford, allowing them to rest.
Solomon Thomas has never come close to living up to expectations as the third overall pick in the 2017 draft. What can be said about Thomas is he brings some inside-outside versatility and he works hard. He has never developed a pass rush plan and he can be moved around against the run. He's only a rotational player at this point.
I have higher hopes for Julian Taylor. He actually graded out nearly identically to DJ Jones per pro football focus, though I think Jones is the better player. Taylor is solid against the run, offers some versatility and is fully-capable of giving you 10-20 snaps a game.
Kentavius Street is largely a mystery. I don't know if he'll ever be healthy enough, and have enough opportunity, to show what he can do. There's space for him to make an impact as a reserve lineman, but I don't know if he'll seize it.
Hyder offers more experience than some of the 49ers young linemen fighting for reserve work, and that may mean he makes the roster. He had one 8-sack season, which looks like an anomaly as he only has 2 sacks in his three other seasons combined. He did grade out as a solid run defender last year per Pro Football Focus, and if he can be that for 10-15 snaps a game, he would be valuable depth.
Willie Henry Jr. has some quality starting experience as an interior lineman, but his career has been beset by injuries. If he's healthy, a big if, he could be nice depth inside.
All the 49ers defensive linemen benefit from the presence of one of the best d-line coaches in football, Kris Kocurek. Being backed up by one of the best linebacking units in football (Dre Greenlaw, Fred Warner, Kwon Alexander) doesn't hurt either.
Overall Grade: A
If Kinlaw is what most expect, the 49ers will have four pro-bowl talents on their front (Bosa, Ford and Armstead being the other three). Jones is a high level run-defender and Blair would start for plenty of teams when healthy.
Beyond those top 6, there are plenty of questions and players with lots to prove. The Niners need 2-3 guys from the group of Thomas, Street, Taylor, Hyder, Givens and Henry to be reliable rotation defenders. Thomas is probably the surest bet from this group given his experience and track record of staying healthy.
Editor's Note: We continue Adam's "Making the Grade" with the defensive line! We will be featuring defensive breakdowns over the next couple of days so stay tuned!