Cornerbacks: Richard Sherman, Emmanuel Moseley, Ahkello Witherspoon, K'Waun Williams, Tim Harris, D.J. Reed Jr., Jason Verrett
Safeties: Jimmie Ward, Jaquiski Tartt, Marcell Harris, Tarvarius Moore
*Note: As a reminder, in these articles I'm not projecting the final 53-man roster, per se. Instead I'm writing about the players I see having a path to a regular role on the roster. There are always guys that come and go from the practice squad and hang on the fringes of the roster, but I'm not primarily interested in those players in this series of articles.
Position Breakdown: Welcome to one of the more disrespected position groups in the NFL. Despite boasting the number two pass defense that was at times historically good in 2019, much of the credit for the 49ers success was, understandably, skewed toward the defensive front. The 49ers trailed only the Patriots in passing yards allowed per game last year, giving up a meager 179 per contest.
Maybe some evidence the pass rush was the ultimate factor in the Niners defensive success is found when you consider the Niners were middle of the pack in the league in completion percentage allowed at 63 percent. Or you could say that's a schematic intention of the 49ers defense – allowing some short gains and rallying to the football. They led the league along with New England in least yards per pass attempt allowed at 5.4 yards. Yards per completion was a similar story, except the Niners stood alone at the top of that category.
The Niners were also third in the league in the percentage of plays where they recorded a sack and third in sacks per game. Bottom line – this was superb pass defense last year by just about every measure.
Yes, this defense had one of its few bad moments on the biggest stage in last year's Super Bowl, but that was a collapse in which the entire roster and coaching staff played a role.
Richard Sherman had his lapses in the Super Bowl, but on the whole he was an elite cornerback in 2019. He can be vulnerable in open space against elite speed there's no doubt, but his height, length and smarts generally keep him in perfect position to shut down his side of the field for long stretches. It's possible he takes a step back in his age-32 season, but it's also possible he's another year stronger recovering from an Achilles injury suffered in late 2017. Either way, he's the 49ers clear number one corner and should be counted on as one of the reasons they can again be a top pass defense.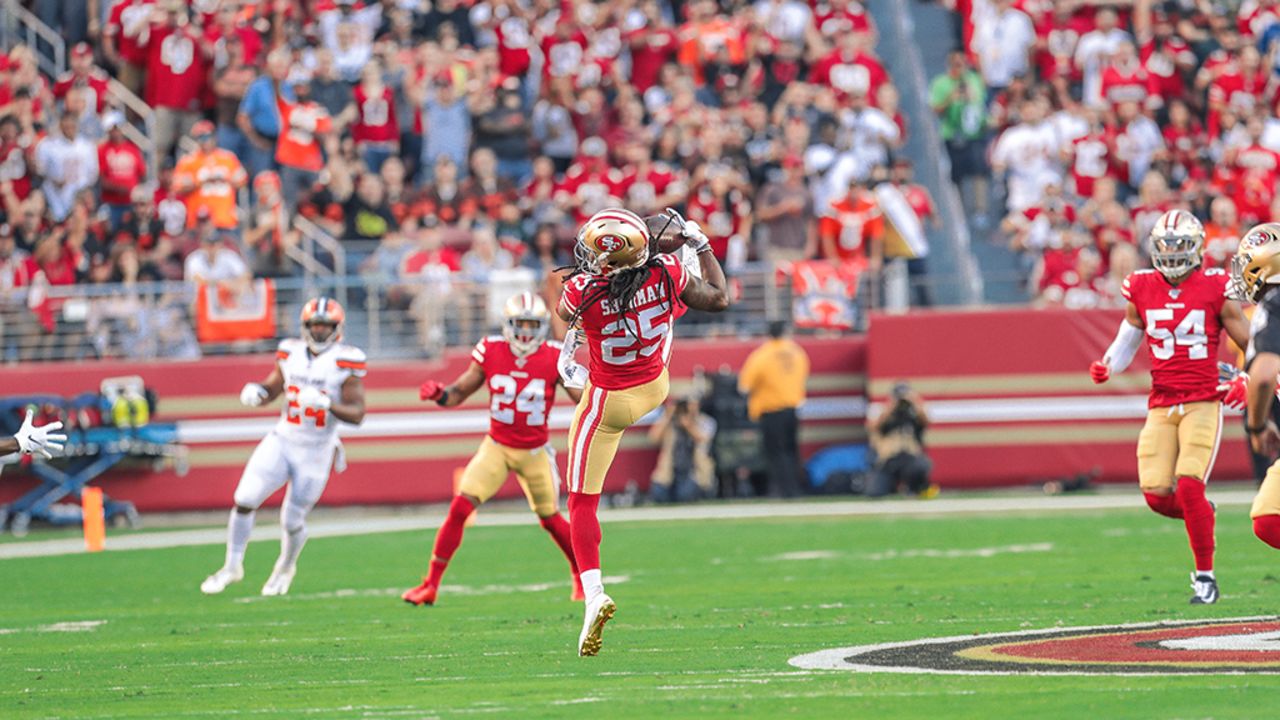 Opposite Sherman it seems the obvious choice is Moseley. What he lacks in pedigree as a once undrafted rookie free agent, he makes up for in reliability. He's rarely out of position, he's physical and he has the speed to run with most receivers deep. He's a solid number two corner who could improve at 24 years old.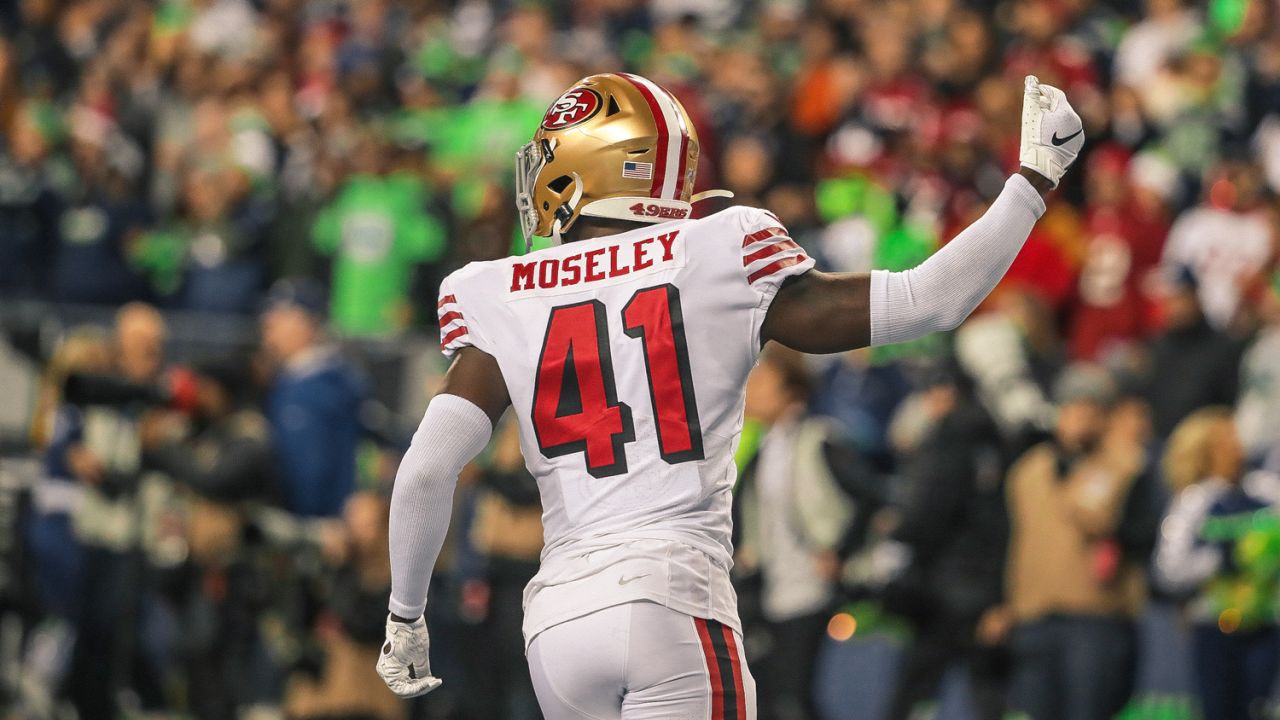 K'Waun Williams has been one of the 49ers best defensive players for three years running. He's a pure slot corner and his small, quick, physical frame is custom built to cover quick slot receivers. He tackles well, he's sticky in coverage, and he'll create turnovers.
Witherspoon is where it gets, depending on your perspective, interesting or maybe a little frustrating. He probably has the best pure athletic profile of any of the 49ers corners. Standing 6'3" with 4.45 speed and fluid hips, he has every tool to hang with prototypical number one receivers except probably some strength. After starting last season strong as the starter opposite Sherman, Witherspoon fell out of favor, replaced by Moseley for much of the season and down the stretch in the playoffs. He seemed to lose confidence and at times be in position but just not be assertive enough to make a play. On the whole, the 49ers should feel OK about having a 4th corner with as many tools and as much promise as Witherspoon.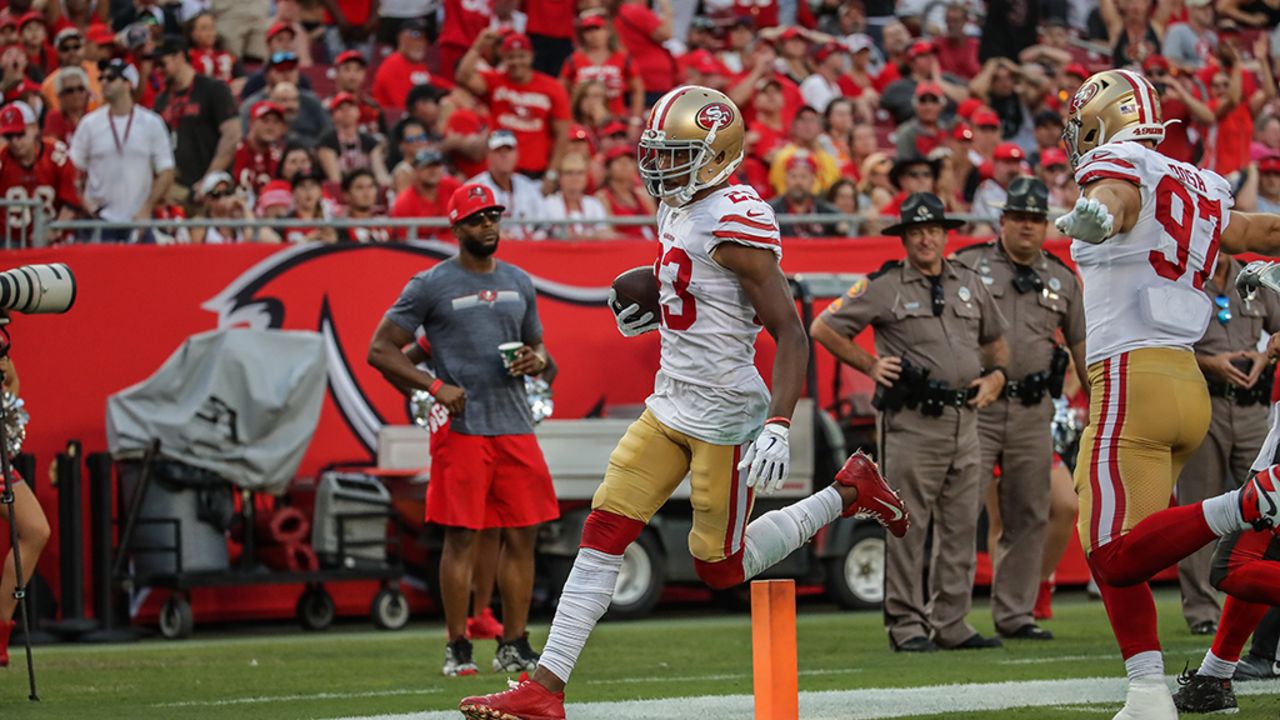 Tim Harris holds some intrigue. 6'2," 200 pounds, 4.43 speed, but a history of injury issues make his impact hard to project especially as the 5th or 6th corner seeing limited practice reps.
D.J. Reed and Jason Verrett should compete for spots at the back end of a crowded defensive back room. It wouldn't surprise me if Verrett was released relatively early in the pre-season (whatever that looks like this year) because of his major injury history.
Safety was a pleasant surprise for the 49ers last year. Jimmie Ward finally stayed healthy and played superb football, just one measure his 6th overall ranking among all safeties per Pro Football Focus. Tartt was solid if not quite as impactful as Ward. He supports the run well, brings the hammer as a hitter and has really good athletic ability.
Harris gets "put in a box" as being an "in the box" safety, but Eric Crocker put together an excellent Twitter thread showing Harris can do a little more in coverage than he gets credit for:
Moore is a long, rangy safety prospect with top end speed and some traits that make you think he should be a corner. He recorded an interception in the Super Bowl, which has to be an affirming moment for a player seeing if he really belongs at the highest level. He has lots of potential and it'll be interesting to see what role he carves out.
Overall Grade: A-
I can understand people who would argue this is an over-rating. But here's my logic: Sherman, is still a top 5-10 corner in terms of effectiveness, no matter how he gets it done. Williams is an elite slot corner who's on the field a ton and plays a critical role. Moseley doesn't get you in trouble, especially backed by versatile and reliable safeties in Ward and Tartt. There's interesting depth here. Witherspoon has starter potential but may not realize it if he gets buried on the depth chart. Moore and Tim Harris bring some interesting physical traits. You can count on Marcel Harris as a solid football player if Tartt gets injured.